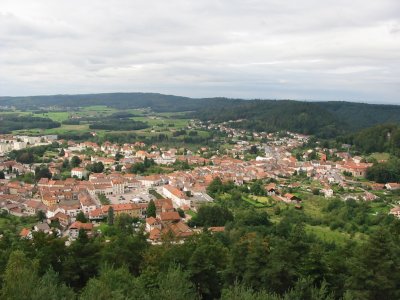 Bruyères
This town in the Vosges was a Gallo-Roman settlement from the 3rd and 4th centuries AD. It appears as we know it today in the registers of the 13th century and experienced a golden age of great economic prosperity in the course of the 18th century, before the horrors of the French Revolution, then in the second half of the 19th century with its industrial and military boom.
Bruyères is twinned with Honolulu. During the Second World War, fierce battles were fought around Bruyères by the Hawaiian troops of the 442nd American Infantry Regiment. The soldiers paid a heavy price. In 1947 a monument to the glory of these men was built, and many veterans went on pilgrimage to Bruyères. One of them, Wilbert Sandy Holk, then evoked the idea of a twinning. A correspondence was established between the two cities. The decision was made on November 1, 1960 by Honolulu Mayor Neal Blaisdell. He and René Drahon, mayor of the Vosges city, sealed the twinning on October 15, 1961 on the occasion of the 17th anniversary of the liberation of Bruyères.
Bruyères continues today attracts passing visitors with its charm and dynamism.